The shortest route to language acquisition is through a bilingual instructor

All instructors are bilingual and fluent in Japanese and international languages.
Our classes are a fixed price for up to eight students, so you can learn with your family or colleagues at a low price.
Delightful teachers full of enthusiasm will fully support your language learning.
Offering various languages
English, Chinese, Korean, Thai, Vietnamese, Burmese, Nepali, Indonesian, Hindi, Tagalog, Russian, French, Spanish, Portuguese, German, Arabic, Swedish etc.
Over 20 languages
Chinese/Korean, Lessons in 17 languages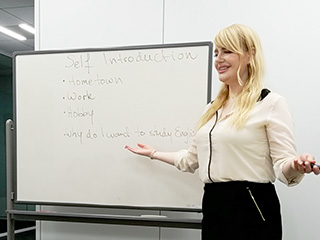 A detailed lessons tailored to the situations that you actually need, such as international business negotiations or overseas travel.
From complete entry level to presentation or examinations for qualifications, lessons can be taken in Japanese, so do not worry.
Instructors are well-versed not only in the language but also familiar with the local circumstances.
Japanese lessons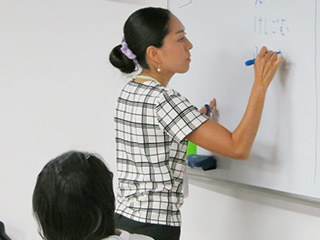 Even if you have just started learning Japanese, you can relax and study through your own language.
Full learning support for returning children and foreign children who started living in Japan, or for examinations for qualifications such as JPT etc.
We also teach technical terms used at workplace.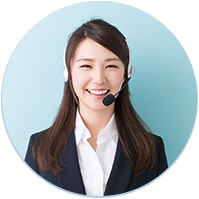 A guide to our online lessons
Global Langue offers online lessons.
You cannot find a place to hold lessons in your office ……
The time zone that you can devote to language learning vary.
For customers with these concerns, we offer online lessons where you can learn languages hassle-free at home or various locations!
Company Name
GLOBAL LANGUE CO.LTD.
Date Established
May 6, 1992 Human Relation co.,ltd.
December,2017 Our company changed its name to GLOBAL LANGUE CO.LTD.
Representative
UOZAKI Hiroshi
Address
301 High Glow Bldg., 1-13-10 Ebisu-Minami, Shibuya-ku Tokyo Access Map
TEL
03-5721-2123
FAX
03-5721-0175
Capital
1. Foreign language lessons to Japanese
2. Japanese lessons to foreigners
3. Education on international understanding
4. Translation/interpretation services
5. Editing / publishing and educational text development services
Registered Instructors
80 Foreign Instructors,70 Japanese Instructors
Languages Handled
Over 20 languages including English, Chinese, Korean, Thai, Burmese, Vietnamese, Nepalese、Indonesian, Tagalog, Hindi, Russian, French, Spanish, Portuguese, German, Arabic, Urdu, Persian, Swedish,etc.
Bankers
MUFG , MIZUHO, SMBC, JP Bank